Remote Phosphor LED lights from CINEO Lighting
Lately, I've been researching various brands offering LED lighting solutions to upgrade my existing predominantly tungsten based lighting kit. My tungsten kit consists of a couple of ARRI 650 Plus fresnels, and a 300w Arrilite (really old), and although I love them, they've been around for some ears and frankly I am tired of lugging them around all the time. I also have a 3 light kit from Ianiro (again good old tungsten 150's I used for interviews as rim and background lights as they ain't too harsh), but even with softboxes all my tungsten lights are adding a lot of bulk to my kit and heat on set.
I've experimented with some cheap LED's but never gotten satisfactory results. I do have a MicroPro LED on-camera light form Litepanels, which I've used for many years and I've used it on all my music videos and the feature film I directed last year. It's a small and versatile light that never leaves my kit bag. They're not perfect, but they do the job. I am not a huge fan of the fact that it requires 6 AA batteries and constantly recharging those can often be a rather boring, unnecessary, and frustrating experience, one which I'd like to avoid in the future.
I remember seeing a video from NAB a year or so ago so I decided to revisit the phosphor LED lighting options from CINEO.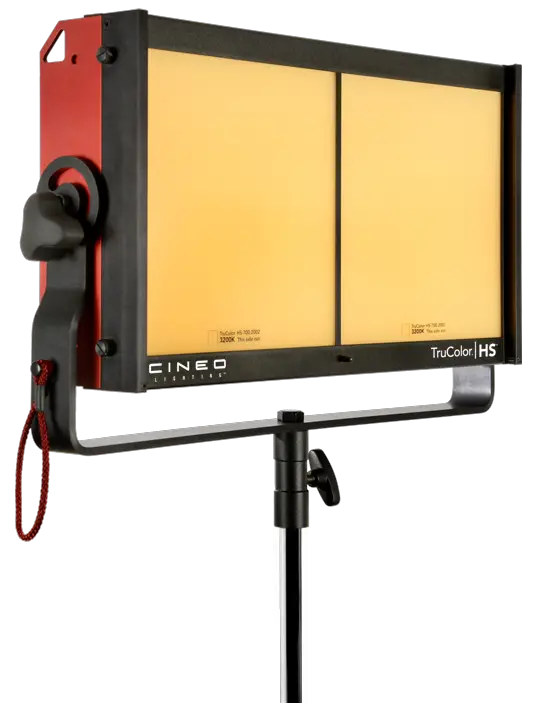 The TruColor® HS™ from Cineo Lighting (pictured above) is remote phosphor based LED light of high colour accuracy. It's an interesting light, very soft, and multiple shadows stemming from multiple LED diode units found in common LED 1×1's and other LED film lights are avoided here. It's quite a powerful light for its size – it produces more than twice the output of a 2K incandescent soft light, and has a high CRI of over 95, generates a 160-degree beam spread, and uses less than 500 watts of AC power.
Read more here: http://www.4kshooters.net/2015/02/12/remote-phosphor-led-lights-from-cineo-lighting/